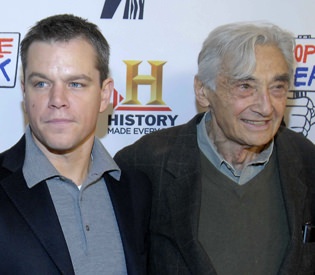 I do hereby proclaim January 27 to be a national holiday in Real America. 
Howard Zinn is dead and has been since Wednesday when a fortuitous heart attack provided the invitation to a dirt nap much needed for the last 50 years.
To say he was a communist, a traitor, a political pornographer and a bloody fifth-columnist who hated America is far too mild.
He was lionized and worshiped by the Hollywood elite… the only group of Americans with IQs low enough to engage in such stupidity. 
I hope he runs into Saul Alinksy on the Seventh Level of Hell where they can compare notes on atheism and the salvation available through cults of personality in the worker's paradise.
"But GA, he served honorably in the military."

"So did Lee Harvey Oswald, Benedict Arnold, and John F. Kerry.
It always amused me that Zinn and others of his ilk took everything America could give them… status, riches, celebrity, freedom, liberty, and spit in her eye, yet never once chose to live the communist/socialist life they professed for the rest of us.
Two down, George Soros to go. I was disappointed this fall and winter; I was betting on the Swine Flu... it would have been wildly appropriate.
The Fiery Filipina, Michelle Malkin, and her readers are near giddy: Howard Zinn dead at 87.
Speaking of traitors…. what the hell is Maobama doing now?
It's been a light week what with nationalizing college football's Bowl Championship Series, doing color (what else?) on the Georgetown-Duke college basketball game and meeting with the LA Lakers where he got a chance to hang with TV trollop Khloe Kardashian who is married to someone on the team.
"Such an amazing day!" the 25-year-old reality star tweeted. "I just meet Obama with my husband!" 
Yeah, I know, she meant to say she "meeted"  the president.
The following has taken The One We've Waited For a little more time on (via Atlas Shrugs):
Obama is using (the Massillon Ohio) public school system to recruit for his Alinsky-inspired private army. His Organizing for America is (and I quote) recruiting in our high schools to "build on the movement that elected President Obama by empowering students across the country to help us bring about our agenda" .... of national socialism.

Here's the students' recommended reading:

Rules for Radicals, Saul Alinsky
The New Organizers, Zack Exley
Stir It Up: Lessons from Community Organizing and Advocacy, Rinku Sen
Obama Field Organizers Plot a Miracle, Zack Exley, Huffington Post
Dreams of My Father -- Chicago Chapters, Barack Hussein Obama
Apparently this effort is geared toward getting the youthful, mind-numbed Obamabots to be street agitators for the coming election season.
And if you think it's only one school in one city in one state… you've been sleeping.
Barry also had more meeting and greeting to do:  the woman on the left is the eff'ing mayor of Tampa. Perhaps its his way of explaining his bowing to foreign heads of state… "I bow to everyone." 
Anyone got a caption for the admiral's thoughts?
Perhaps the mayor's a minority of some kind.
Where it begins
And the following proves conclusively what I've always said… that soccer is a communist game only played by people with unpronounceable names, homosexuals and those with minimal hand-eye coordination:
Meet Omar Hammami, former Sunday school student from Daphne Alabama who is now an IslamoNazi terrorist in Somalia, where he is "a key figure in one of the world's most ruthless Islamist insurgencies. That guerrilla army, known as the Shabab, is fighting to overthrow the fragile American-backed Somali government."
They specialize in sawing off people's heads.
We must try to learn why he hates us so much… and banish soccer from these shores.
Here, as they say, is the rest of the story from the NYT.