One of the greatest American congressmen is gone.
The larger-than-life East Texas legislator, Charlie Wilson, 76, passed away today in his hometown of Lufkin.
He was exactly my kind of congressman, unconcerned about his own empire building, and when he saw the opportunity to kill communists he didn't wait for an appropriations committee hearing.
His single-minded support led to the the mujahedeen success in driving the Soviet occupation forces from Afghanistan in the late 1980s.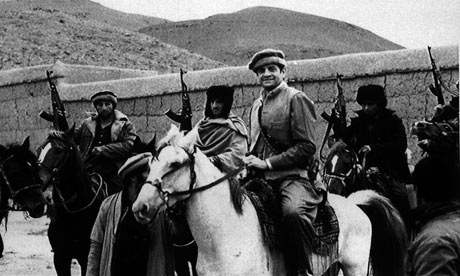 There is little doubt that he believed that was the greatest accomplishment of his 25-year career.
In a brilliantly carried out international covert gamble, "Good Time Charlie" Wilson eventually manipulated tens of millions of dollars in foreign aid into $1 billion which was matched by the Saudis. This enabled the Afghanis to blow Soviet choppers out of the air and was critical to ending Soviet military aggression.  
Wilson's exploits were the subject of a 2003 bestselling book
and a movie, Charlie Wilson's War, starring Tom Hanks.
Wilson, a U.S. Naval Academy graduate, said he saw an opportunity to hurt the Soviets militarily and their standing in the world after visiting Afghan refugee camps in 1982.
With President Reagan's support and eventual approval, the Stinger missiles were on their way. The Soviets eventually pulled out of Afghanistan in 1989.
Not content to be a sideline fund-raiser, Wilson made several trips to Afghanistan's Hindu Kush where he risked his life and took the occasional turn with the heavy machine gun.
While 99 percent of all government employees (save the military) only talk about doing something, Charlie Wilson just did it.
He was a great American.
Talking of equalizers, I've written about "Metal Storm" weapons on several occasions over the last few years (Things that go boom in the night).
But this story from "Future Weapons" on electronic small arms
and heavy weapons is the best to date.  A tip of the helmet to West Coast friend and faithful reader, Saint Di.
Highlights:  A Metal Storm (MS) 9mm handgun can fire a burst of three rounds before the weapon recoils. This literally means that first shot on center mass is three shots. 
As does all Metal Storm ammunition, the 40mm rounds have no casings, and all weapons have only one moving part… the cartridge itself, because each individual round (already stored in the barrel(s) is fired electronically.
Metal Storm has created a 36-barreled stacked projectile machine gun, boasting the highest rate of fire in the world. This weapons system has an astounding firing rate capability of around 1.2 million rounds per minute.
No "bang-bang", a Metal Storm weapon can fire 180 rounds in less than one-hundredth of a second.
Cumulative effect of firepower.  Because all rounds are stacked in the barrel and fired electronically, Metal Storm has the ability to deliver munitions at extremely high rates of fire - but it's not about quantity.  For example, four rounds of 40mm HE munition all delivered onto a target at the same time
provides a much greater effect than four rounds hitting the target one behind the other, 20 feet apart.  When 4 Metal Storm fired munitions hit the target at almost the same time, which can be repeated, the lethality of those warheads is increased markedly through the unique delivery of that firepower.
Lethality is also enhanced through greater control of fire missions and the ability to almost instantly select different munitions for different targets.  Fully selectable fire missions can be configured ranging from a single shot through to multiple shots. These fire missions may be in the form of a small curtain of fire, a swarm of munitions or convex or concave shaped multiple munitions. All these capabilities provide a cumulative lethality effect much greater than several single 40mm munitions arriving individually.

Metal Storm technology provides the ability to fire munitions onto a target in groups of any size, shape and sequence in much greater proportion to the size of the weapon. The technology allows single and multi barrel weapon systems to apply significant firepower onto a target compared to conventional weapons; thus providing a high firepower to weight ratio. For example, the equivalent of a 6kg munition can be delivered in 12 pieces but provides the lethality effect on target of all 6kg at once.