For those of us who have studied the Pacific theater in WWII, and especially jarheads, Home Box Office's "Pacific" was long awaited, and at least for this Marine, a successful effort in portraying WWII's worst crucible.
The inevitable comparisons with Spielberg/Hanks/HBO's epic "Band of Brothers" are both predictable and frankly, unfair because, like the wars, the productions were completely different.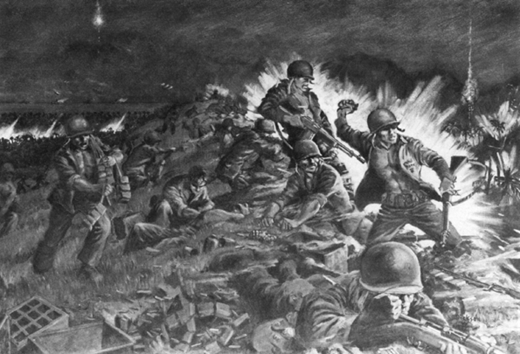 Soldiers, sailors, airmen and Marines were dying in Pacific combat from Dec. 7, 1941 until a brutal, fanatical, and psychologically unbalanced enemy was eradicated by any and all means necessary. In the end, peace was only achieved with an unthinkable weapon designed specifically to kill Japanese in massive numbers.
As accurately portrayed in "Band of Brothers", the final assault on Fortress Europe did not begin until two and a half years after Pearl Harbor. We follow Easy Company, 2nd battalion, 506th PIR of the 101st Airborne though training and preparation for D-Day. Most of Easy Company didn't hear a shot fired until 6 June, 1944.
In "Pacific" we also get an accurate portrayal… of almost immediate combat played out in the largest battlefield in the world, on tiny disease-ridden, rat-infested specks of land unknown to much of the world, then and even now. 
It's no wonder that the "Battling Bastards of Bataan" sang, "No mama, no papa, no Uncle Sam" as an unprepared America shocked belatedly into WWII, didn't have meager supply lines, it had no supply lines.
General Douglas MacArthur's soldiers ate mules and monkeys and finally even shoe leather in an attempt to fight off starvation before being forced to surrender.
"Pacific" –-which portrays the war experiences of Medal of Honor Recipient Gunnery Sgt. John Basilone (left)—shows us the immediate shock of the young unbloodied Marines at the first encounter with well-trained and combat-tested Japanese who fought to the death, committed war crimes on an hourly basis and chose seppuku rather than surrender. It was a matter of honor.
Many Americans faced with surrender also chose death, but
only to spare themselves the horror that falling into the hands of the Japs meant.  In the Pacific, the death rate of U.S. POWs was 37%—seven times that of POWs under the Germans and Italians.
Every Allied POW captured by Imperial Japan was tortured; you'll never see a "Hogan's Heroes" about fighting Japs.
The war changed the men of Easy Company to be certain, but as Eugene Sledge's (below) physician father explained of his war and its casualties: "It wasn't that they had had their flesh torn, it was that they had had their souls torn out."
In last night's final episode about the Marines' homecoming, Cpl. Robert Leckie's cab driver, himself a European Theater vet, refuses the
Marine's cab fare.
""m not taking that. I might have jumped off at Normandy but I got rehab in Paris and London, all you Gyreenes got was jungle rot and malaria"
By story-telling standards, Band of Brothers is much better; there is great pace and writing, and the main characters are sharply drawn with great complexity.
But in "Pacific" the Sledge and Leckie characters and their fellow Marines haven't the time for such niceties, they are knee-deep in a struggle to maintain a grip their sanity, let alone their humanity.
Racial hatred comes much easier for the Marines in the caldron of no quarter given.
When an Easy Company lieutenant methodically and devoid of hatred, executes a small group of German POWs on D-Day, it was a simple exercise in common sense.
In "Pacific" many men find that only exponentially greater violence, even to the point of post-mortem savagery, can satisfy their need to repay in-kind the enemy who forced them to embrace their most primitive instincts.
To say "life was cheap in the Pacific", is to utter one of the greatest understatements of World War II.
After one savage battle, a character exclaims in a combination of bewilderment, anger and angst, "Why won't they surrender?"
He doesn't get an answer… there isn't one.
For the young Marines, visions of hell are so common and unrelenting that in many ways they give up hope or even the belief in their own survival… simply based on the odds and the enemy arrayed before them.
Once home the Leckie character explains to a young lady that he wrote her many letters during his three years overseas.
"Why didn't you send them to me?," she asked.

"I didn't think I'd make it, so it didn't matter," he replied.
There were a lot of answers for Easy Company… primary among them was their part in the liberation of the deaths camps which if nothing else made all the pain and suffering and death perhaps worth while.
The end
Major Dick Winters and Easy relaxed in Occupied Germany, winding down slowly while packing bags and memories for home.
The only thing that could be said of war by the psychologically stunned Marines, awaiting the final assault on the Japanese mainland, one hot August day in 1945, was "it's over."
As portrayed in the HBO series, and in Leckie's (left) and Sledge's war memoirs on which "Pacific" was largely based, the young sergeants, PFCs and corporals came home quietly, without fanfare and immediately started trying to make sense of home and peace—a task they found perhaps more difficult than making sense of war.
"When he came to enroll at Auburn University, the female at the registrar's office asked him if the Marine Corps taught him anything useful. Sledge replied saying 'Lady, there was a killing war. The Marine Corps taught me how to kill Japs and try to survive.

"Now, if that don't fit into any academic course, I'm sorry. But some of us had to do the killing -- and most of my buddies got killed or wounded'."
Sledge's memoir is With the Old Breed; and Leckie's is My Helmet for My Pillow.
If the war in Europe was about technology, airpower, grand war strategy and massing material and troops until the issue was simply not really in doubt, the island-hopping campaign was looking a Jap solider in the eyes as you gutted him, before he could gut you.
Is this back and forth meant to question which war was "worse"? No, but it is about which war cost our fathers' generation more deeply.