Each year on this date I try to convey what my beloved Marine Corps means to me…and every year I fall short.
I strive for Shakespeare's Henry V soliloquy, St. Crispen's Day Speech, yet my efforts produce something more akin to Studs Terkel … real, but lacking.
I fall short of trying to capture, convey, is the mesmerizing ability of three drill instructors, not much beyond the years of their recruits, to reshape for life 75 stumbling, ignorant, pampered civilians into a platoon that will shatter the Huns in Belleau Woods; 
who will kill thousands of fanatical Japanese completely shorn of human dignity and respect for life until they no longer resist on Iwo Jima, to suffer the inhuman cold and depravation of the Chosin Reservoir and turn abject failure and defeat into glorious victory.
It is this platoon that fought through the nightmare of Hue City and Khe Sanh and other long ago anonymous battles ignored by historians and all but those who shed their blood in them.
These are the same young men, transformed by the Corps, from do nothings to do everything who have paid for the lung full of freedom we pull in every day of our lives. They have fought, they
have bled, they have died in their tens of thousands to protect us, exchanging their very existence for our frivolous tomorrows.
Considering their sacrifice, how will you spend yours?
We never stop being Marines, you know; the oath is for life. Duty… Honor… Country. Marines need not add "Corps"… for it is structurally formed into the bricks of all those words… Duty, Honor, Country.
More love of the Corps in found in the stories I've heard from the lips of Jack Lucas, Gen. Bob Galer, Joe Foss, John McGinty, Richard Pittman, Gen. Ray Davis and Woody Williams. I thank God I was found worthy of wearing the same uniform as these great men.
My Marine Crops lives in the rigid stature of the new Marine private in the airport, nervously, constantly adjusting the blouse of his shirt, the knot of his tie and the alignment of his belt buckle.
He is not vain about his new uniform… simply, he knows that there are hundreds of thousands of Marine brothers watching him… and he knows that he is representing them, and he knows he must not fail in that responsibility.
To do otherwise is unthinkable…. for a Marine.   
Our arrogance is well known around the world, but it ain't braggin' if you can do it; we laughed in the face of certain death and Marines have shown our Esprit de corps in this way:
"I have only 2 men left out of my company and 20 out of other companies. We need support but it is almost suicidal to try to get here as we are swept by machine gun fire and a constant artillery barrage is upon us. I have no one on my left, and only a few on my right. I will hold.  -- 1stLt. Clifton B. Cates, USMC; in Belleau Wood, 19 July 1918"
We are your best friend, your worst enemy… you decide. 
The Corps is in the gnarled and shaky right hand of 80 years that rises slowly in salute at the playing of the National Anthem; in the old corporal who somehow, despite his years, stands straight and tall at the first notes of the Marine Corps Hymn. There is no smiling, no movement, no recognition of those surrounding. He stands erect in honor to the Corps and his comrades long departed.
Others may have songs, marches, and clap-along music.
Marines have a Hymn. In the end, the very end, we are… on Heaven's scene.
The Marine Corps is found in the chilling order, Fix Bayonets!
It is in the frantic chatter on the radio as Marines rush to save their brothers.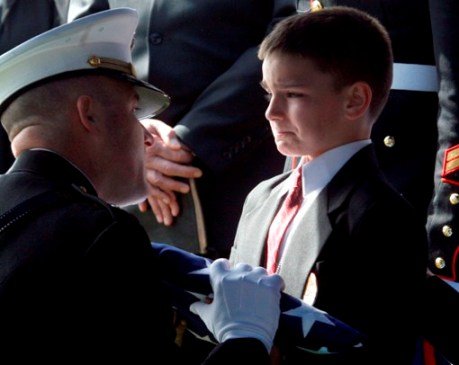 It is in the baby just born, he and his mother unaware that he has no father, she… no husband.
It is in the constant rehearsing on how to treat a sucking chest wound, lest a young lance corporal fail to save his friends' lives.
The Corps is in the nation's cemeteries, large and small where families and friends come to remember, and where those at their feet hope only to hear one thing… "He was a good Marine."   
The Corps is in each and all of us… ever prepared, ever present to defend with our lives… the life, liberty and the pursuit of happiness of all people who seek and cherish freedom.
We have not regrets, no second thoughts, no what-ifs; we are Marines unto death and that is enough…. more than enough. 
Semper Fidelis.