(Editor's note:) LM/3/1 has never committed to a regimen of daily posts, but I owe it to my faithful readers to get something out at least 3-5 times a week.
That will continue, but wanted everyone to know that I have been enticed back into the workforce by a demonstration project that I believe has a decent chance of helping veterans—particularly our young returning vets from this Long War.
I'll be the "Veterans Services Coordinator" for our tri-county area here in North Texas tasked will creating a program to knit together sources of support and assistance—specifically mental health services. It is grant-funded and I have two years to find continued funding. 
So… in this start-up period, I may be a bit more spotty here, but this will smooth out as I get the program going.
Now, we return to regular programming:
We may have lost our country via the sin of allowing incrementalism, we have given it away in small pieces, an inch at a time.    
Even the title "American" has become meaningless.
We've allowed it to be hyphenated, and thus, our nation to become Balkanized by "African-Americans" and "Hispanic-Americans" and "Muslim-Americans" and "Fillintheblank-Americans"—all insisting that "their" country of origin, or race, or religion should hold sway over being Real Americans.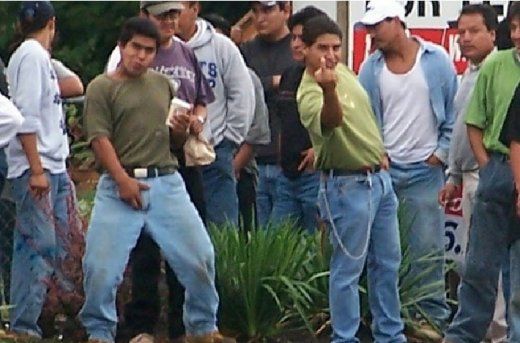 Those who so insist are an embarrassment to this nation; every waking minute they are devoted to their own selfish, petty interests and the political drive to ruin the nation. They have little desire to become Americans, even though many were born here.
Real America does not need a Congressional Black Caucus because it is antithetical to the entire consent of our democratic republic.
We were not founded more than 230 years ago in order to form a "melting pot", that was never a goal, nor has it occurred; diversity should be tolerated, not celebrated.
The concept of America was simple… to welcome those who want to become citizens and are willing to acculturate to this country, its values, history and traditions—not change them; those who refuse to do so hinder this great nation and are a national embarrassment.
We are losing our Constitution
Despite the bold and simple declaration "… the right of the people to keep and bear Arms, shall not be infringed" , we have allowed our domestic enemies to pass "common sense gun laws" which have left the Second Amendment hanging by a 5-4 Supreme Court margin.
The "takings clause" of the Fifth Amendment—nor shall private property be taken for public use, without just compensation—has been burned to the water line; and now your house or business can be condemned confiscated by your city council to construct a Mega-Mart simply because it will produce 100 times the tax revenue as does your auto parts store.   
For too long we've continued to allow the nose of this this deadly gigantic camel under the tent flap; we've acted like the minority in a majority-rule system of government. We've allowed the persistent, fifth-barbarians to whipsaw our nation and steer it away from the course set long ago—to continue on toward freedom, liberty and prosperity.
We have allowed our laws, our traditions, our values, even our Constitution to be trampled, crippled and and in some ways destroyed by sheer ineptitude, and our absolute refusal to neutralize every attack, strangling each in its crib. 
We have allowed left-wing "environmental activist" idiots to impede our position as the world's largest producer of energy. We invented nuclear power, yet we've allowed it to be stymied since the Three-Mile Island mishap in 1979.
Ted Kennedy killed more people than Three-Mile Island.
Insignificant lower life forms… fish, worms, weeds have all been used as obstacles to our nation's progress in every state in the Union, when they should be resting under a foot of solid American asphalt.
We allow children to miss a day's education (if that is actually possible any more) for Martin Luther King Day because of the color of his skin and not the content of his character to appease blacks African-Americans with a political axe to grind.
And black children, based on their miserable performance in school as a group, can least afford to miss an hour let alone a day of school which they use driving around, going to the mall, drinking, smoking blunts and wasting their time, along with their fellow students.
The tyranny of the miniscule
We, a Christian nation, have allowed Christmas, Christ Mass, to be scrubbed from our vocabulary. Christmas pagents and parties are now "Winter Holiday" activities; Christmas trees are banned even though they're 100 percent secular. 
We have allowed a small group of radical, ugly, bitter lesbians to marginalize men and fatherhood, ridicule the entire concept of motherhood, family and child-rearing. Millions of women's lives have been ruined by "women's liberation" and it's supposed benefits.
This has in large part been responsible for the disintegration of the nuclear family, the drastic rise in divorce and broken homes, and therefore broken children, delinquency and educational failure.
And mass murder—we have killed 49.6 million babies since 1973's Roe v Wade in this land of "… life, liberty and the pursuit of happiness."
The cost to our nation is incalculable—did the cure for cancer die as a result, did a great president, an intellect on the order of Einstein, another Mozart?
Now we have "Take You Non-Aborted Daughter to Work Day".
But due to the greatest medical care in the world, and a mother who believed in life, the baby at the left is healthy and happy somewhere in Real America.
Children can be expelled from school for bringing a butter knife to school; they have been suspended for giving fellow students over-the-counter cough drops for a sore throat…. these acts violate "zero-tolerance" weapon and drug (sic) policies. 
We supposedly run our neighborhood schools; we certainly pay for them. How did this happen?
We have allowed our traditions to be marginalized and ridiculed.
Civility has been replaced by vulgarity, coarseness, and just plain idiocy.
Since the 1960s we have allowed our military to be equated with Nazis, mass murders, rapists, criminals, drug addicts, fools, idiots and mental defective…. and that's just from our elected government officials.  
We have allowed special classes of citizens to be created… women, racial and ethnic minorities, handicapped, which was followed by "hate crimes" and "hate speech" which literally means you can be sent to prison for years for your thoughts.
Thought Police?  It isn't science fiction.
We simply, tragically forgot Jefferson's admonition: 
"The price of freedom is eternal vigilance."