Victory. Search and Destroy. Kill.
Enemy. Terrorist.
Prisoner..  of….   War.
These are but a few of the words and phrase which have lost all original meaning in our society… not because of our "living, breathing, evolving" language but because they are intentional marginalized or banned outrights by far left enemies of America including the regime-run news media of the democrat party.
Recent case in point…..
You will never hear these men referred to as "POWs", even by the military:
Early reports are sketchy, but it appears that two U.S. Navy personnel drove into a Taliban-held zone outside Kabul Friday; and the enemy claims one was killed and the other captured.
The below pictures are from flyers offering a $20,000 reward for the safe return of the two sailors. And no, they aren't SEALS for about 100 reasons, just one of them being that SEALS' mug shots aren't spread around a war zone or plastered all over the world wide web. 
Reports indicate that checkpoint guards tried to flag down the vehicle, carrying a driver and a passenger, but it kept going, a district chief said.
"They stopped in the main bazaar of Charkh district." The Taliban saw them in the bazaar; they didn't touch them in the bazaar, but notified other Taliban that a four-wheel vehicle was coming their way."
A second group of Taliban tried to stop the vehicle, but when it didn't, insurgents opened fire and the occupants in the vehicle shot back, he said.
American officials confirm one of the sailors was killed and that the Taliban wants to hand over the body in exchange for "jailed insurgents"; the second is being held by the Islamofascists "in a safe area."
You'll not find a single national or international story referring to the two sailors as "prisoners of war."
That would imply that we are at "war", and of course we are not…; in the words our our first Lesbionic Secretary of Homeland Security:
"… I presume there is always a threat from terrorism. In my speech, although I did not use the word "terrorism," I referred to 'man-caused' disasters. That is perhaps only a nuance, but it demonstrates that we want to move away from the politics of fear toward a policy of being prepared for all risks that can occur.
Our Commander-in-Chief:
"I'm always worried about using the word 'victory,' because, you know, it invokes this notion of Emperor Hirohito coming down and signing a surrender to MacArthur," Obama told ABC News. (Editor's note to public school kids of all ages: Hirohito didn't "come down" to Mac or anyone else. And don't look to the White House as a source of U.S. history).
"Islamic extremism" doesn't exist anymore for a president of the united States who goes around bowing and scraping to any tin horn "leader" in the world.
Words are important weapons in a nation's arsenal, yet this government is quickly disarming itself, destroying military morale and brain-washing the public; and pictures are sometimes worth a millions of words:
Americas bows and scrapes before communist mass murders, senile old men, and homosexuals in dresses:
Here's what happens to American POWs in every war: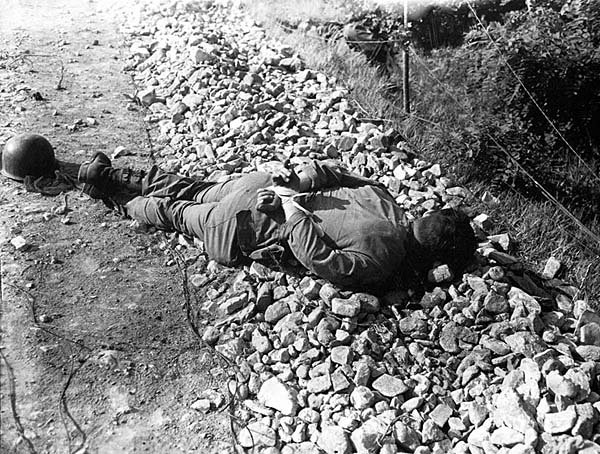 And here's how we treat "detainees" who have just come from murdering our troops as well as their own people.
"Between April 2002 and March 2003, the Joint Task Force returned to Afghanistan 19 of the approximately 664 men (from 42 countries) who have been held in Gitmo.  Each prisoner receives parting gifts: a brand new copy of the Koran as well as a new pair of jeans. Not the act of generosity that it might first appear, the jeans, at least, turned out to be a necessity. During their stay (14-months on average), the detainees (nearly all of them) had gained an average of 13 pounds."—Salon.com
This is why the Founders warned of "enemies, foreign and domestic…."
Keep all our troops in your everyday thoughts and prayers.