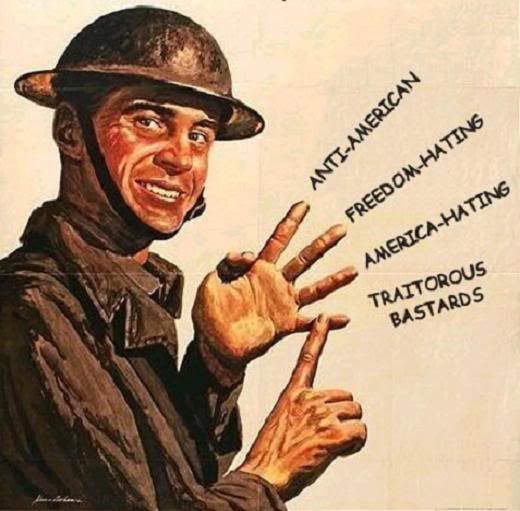 Question: How many of the dozens of American traitors have been charged and executed since June 19, 1953 (see: Rosenberg, Julius, Ethel &).  On October 11, 2006, a federal grand jury issued the first indictment for treason against the United States since 1952, charging Adam Yahiye Gadahn for videos in which he appeared as a spokesman for al-Qaeda and threatened attacks on American soil.
Answer: zero.
Will Maj. Nidal Malik ("Solider of Allah") Hasan be executed for his premeditated Muslim terrorist attack on his fellow soldiers, men, women and children?  Do the Obamas love their country?
Which brings us to yet another American traitor and full-time homosexual, Spec. Bradley Manning who leaked a classified video of an American helicopter attack and almost 150,000 classified Army documents to fellow traitor WikiLeaks CEO Julian Assange.  
Assange, right, obviously has more in common with young Brad,
than just trying to kill U.S. troops.
Meanwhile, The San Francisco-based war resisters' group Courage to Resist has raised $11,418 and is aiming for $100,000 for Manning's defense fund, assuming a "sizable contribution from WikiLeaks."
Three cheers for patriot and Rep. Mike Rogers (R-MI), who serves on the House Intelligence Committee, who demanded Manning's execution should be be found guilty.
"If they won't charge him with treason, they ought to charge him with murder," Rogers said yesterday.
I'd add Assange to the order.
How can a country send its military to war yet not execute its traitors in the same war?
Easy… when the country is run by career, pond scum politicians, 98 percent of whom have never served, or have children in uniform.
And the end game to all this:
Former Gitmo Detainee Turned Taliban Leader Threatens to Kill Afghans Outed in WikiLeaks Documents…
Death and dying in in the real world…
UPDATE: Two sailors are dead, one probably executed by his Taliban captors, in yet another dismally inept and criminal failure of our military in Kabul, Afghanistan.
Petty Officer 3rd Class Jarod Newlove (left), and Petty Officer 2nd Class Justin McNeley, went missing July 23. McNeley's body was recovered two days later, and NATO forces recovered the body of Newlove—a 30-year-old father of two from Wheat Ridge, Colorado, from a river July 28.
To me it appears Newlove was executed with a single shot to the head after being seriously wounded in a brief firefight, his body eventually dumped in a river.
This story is not getting the attention it deserves.
Here are the minimal facts I can find:
The two sailors (Newlove's primary MOS was "culinary specialist") were serving as "mobilization and accounting operations" instructors in a "counterinsurgency" unit based in Camp Julian on the outskirts of Kabul.
Newlove and McNeley, below right, drove a HUMMVEE out of their compound, past guards and entered a village. There they dismounted and entered a bazaar for a short people of time.
They were observed by Taliban agents who thought they might be spotters for an air strike. The Taliban notified other Taliban units that the vehicle was coming their way.
Village checkpoint guards tried to flag down the vehicle, warning they were taken the wrong road, but the servicemen kept going, a district chief said.
Later, a second group of Taliban tried to stop the vehicle, but when it didn't, insurgents opened fire and the Newlove and McNeley returned fire. Apparently, McNeley was killed outside and the wounded Newlove was taken prisoner.   
Had the two become lost, surely they would have simply turned around and headed by to friendly lines, yet they were ambushed—some 60 miles from their base in a Taliban stronghold.
Incredibly, it took the sailors' deaths for command to change the security flaws that would be questioned by a Junior ROTC unit. 
Only now are U.S. military personnel prohibited from driving alone and must travel in convoys of at least two vehicles, according to NATO officials.
Beyond these senseless deaths I have even greater concerns.
Since "counterinsurgency" is the doctrine we are following in OIF and IEF… especially in Afghanistan, where spec ops reign supreme or should, how does a Navy cook end up defending himself in a hopeless gunfight?
The silver lining here is that Marine General James Mattis was confirmed today by a Senate panel as overall U.S. CENTCOM commander in 20 countries and stretches from Egypt across the Middle East and into south and central Asia. He replaces Army Gen. David Petraeus, who technically accepted a demotion in June to take command of U.S. and NATO forces in Afghanistan. Petraeus will now report to Mattis. (Jarheads may cheer at this point).
Mattis is one of the few warrior generals left in the military, lousy with master degrees and PhDs, and five years back raised the ire of the left for this:
"Actually, it's a lot of fun to fight. You know it's a helluva hoot. I'll be right up front with you. I like brawling. You go into Afghanistan, you get guys who slap women around for five years because they didn't wear a veil ... guys like that ain't got no manhood left anyway. So it's a hell of a lot of fun to shoot them."
Imagine, a leader who enjoys his job, inspires his troops and unlike his CnC, uses and believes in the term "victory".
And…. quick now… find me a shot of another 4-star who carries his own gear.
If Mattis sends cooks into the bush, they'll be up to the task, or else.